An oldie (well, not that old), but a goodie. Here, I have one of my IB Chemistry presentations from this year, and the topic is chemical kinetics. I really like the general format of and information contained within this presentation. But it could use a makeover. Addition of visuals, please!
Sometimes (let's be honest – most days), I just don't have enough time in the day! And this presentation does get the job done. This presentation, as it is right now, is not as effective as it could be as far as engaging my students. Sadly, there is only 1 visual in the entire 10-slide presentation 🙁
At the very least, I definitely want to enhance this presentation with some much needed visuals! Since (at least) an outline of the content is important for my students, I don't plan to take away any text. It may seem like there is a good amount of unnecessary text in my presentation, but for the purpose this presentation is serving, it is actually necessary that I keep that text in there. The purpose of this presentation is to introduce and review content after students have taken Cornell Notes on this same material from their textbook. It also serves the purpose of being a resource for my students as it is posted on our Moodle page (class website) for them to review for further clarification after class and before tests and exams.
Here are some of my initial ideas for making this presentation a bit more engaging and understandable for my students. On slide 2, I would like to add visuals that represent real life chemical reactions like the one you see below. This may allow me to develop some sort of story that I can tell my students even though I am THE worst storyteller ever! But by telling a story and having a visual prompt, it would better aid my students in remembering this important information.
On slide 6, I would like to put a picture of a colorimeter (as seen below) as most students may not know what this is or have never seen one before. And better yet, I could enhance my presentation with a short YouTube video to go along with this picture.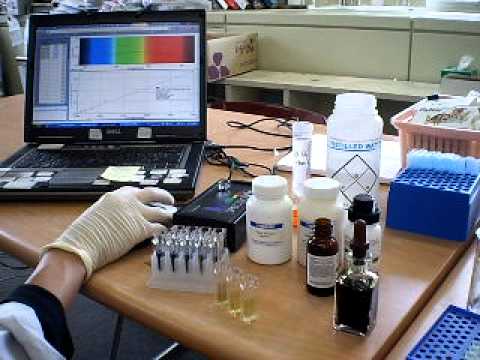 On slide 5, I could add a potential energy profile like the one you see here.
And lastly, on slide 7, it might be beneficial to have a picture for the effect of concentration (as seen below), pressure, and/or surface area on reaction rate at the molecular level. This would help my students "see" what is actually going on with the particles during a chemical reaction.
I believe that by making the above additions/enhancements, my presentation would become a lot more student friendly. I do try to make modifications to each of my presentations each year. This is the first time that I am teaching the IB curriculum, so my presentations have not fully developed yet! If you have ANY suggestions, I warmly welcome your comments below 🙂